7 Fun Things to Do in Greensboro in the Wintertime
North Carolina's winters can be harsh, but don't let that keep you from getting out to have some fun! Greensboro has several outdoor activities to make the most of the weather, and several indoor activities to keep you warm and dry. Here are some of our favorite things to do in Greensboro during the winter months.
Ice Skating
There's nothing like feeling the cool breeze on your face as you glide across an ice rink. It's time to lace up your skates for this essential winter activity, whether you stay indoors or face the elements. If you want to take to the ice outside, bundle up for the WFMY News 2 Winterfest Nov. 17th – Jan. 29th in downtown Greensboro! Skate with your friends or family while listening to holiday tunes and feeling the city buzz. A concession stand is on hand serving up piping hot cocoa and other treats to keep you warm and toasty. If you prefer to escape the winter chill, skate indoors at the Greensboro Ice House or Anchor Skating Rink. These two sports complexes offer ice skating classes, hockey lessons, parties, group outings, and more fun year-round!
Hiking
Forget walking in a winter wonderland – go for a hike! There are a few great winter hiking spots within a quick drive from Greensboro. Hit the Mayo Mountain Ridge Trail in Mayo River State Park for beautiful snow-peaked views. The trail runs for two miles along a gentle ridgeline through a hardwood forest and returns up a small creek. Another popular winter hiking destination is Morrow Mountain State Park and its Sugarloaf and Morrow Mountain Trails. Follow the trails for 5.4 miles over a mellow ridgeline and down a fast descent through the woods, then take a breather before climbing back up Morrow Mountain, where a gorgeous winter view awaits.
Celebration Station
Get out of the house and escape winter boredom any day of the week! Celebration Station is a one-stop shop for indoor and (weather permitting) outdoor fun. Get your fill of amusement with everything from arcade games to bumper boats, mini golf and more. The restaurant offers pizza, sandwiches, funnel cakes, snacks, and drinks to keep you fueled all day long.
Sledding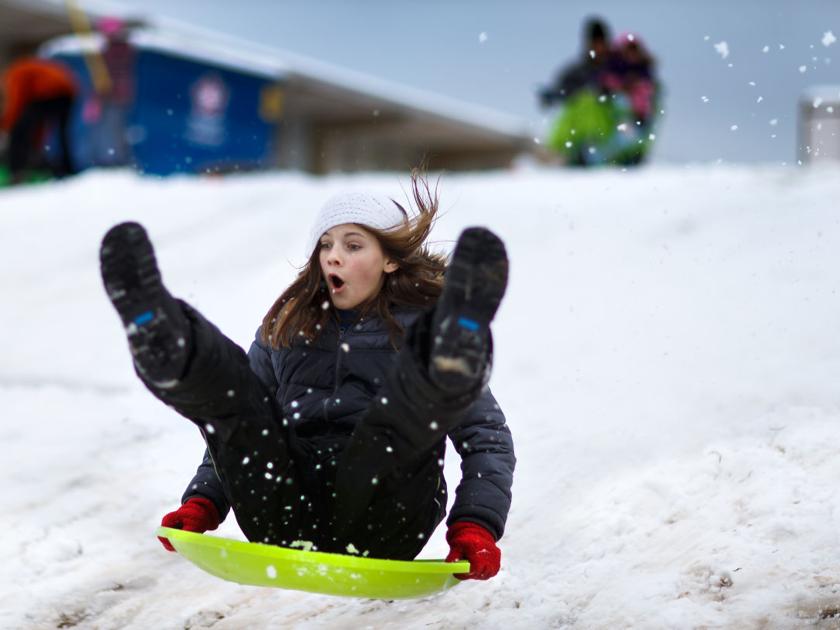 Greensboro is a hilly town, which makes it a haven for people who love to sled in the wintertime! All you need is some sort of sled (a garbage can lid can do the trick), some warm winter clothing, a hill, and some snow! In Greensboro, a popular spot for sledding is Lindley Park, where you can sled down several nicely sloping hills and have fun with a few jumps. For more of a thrill, try what locals affectionately call, 'The Hill', a gentle-yet-formidable slope at Westminster and Watauga drives that drops off into a creek-like ravine filled with water.
Bowling with the All-Stars
The charm of a bowling alley never fades, and bowling is the perfect activity for a cold winter night. Greensboro has its own AMF All-Star Lane Bowling alley featuring forty lanes and a best-in-class bowling experience. There's even an on-site Pro Sho that caters to both serious bowlers and those new to the sport. You can even book a private party room for a holiday party or other special occasion.
Visiting Art Museums
When it's cold outside, it's the perfect time to stay warm inside and learn something new at one of Greensboro's art museums! The Weatherspoon Art Museum is one of the top museums in the area and is home to one of the largest collections of modern and contemporary art in the Southeast. The Greenhill Center for NC Art is a visual arts venue showcasing exhibits by North Carolina artists. The Greensboro History Museum highlights local culture and the city's significant role in American history, all housed in a historic museum building. Looking for something a little less conventional? Elsewhere is a quirky 'living' museum in a former thrift store featuring eclectic objects that are constantly re-positioned and altered to create unique and thought-provoking exhibits.
Arbor Day Tree Planting
Say farewell to winter and welcome spring with Arbor Day Tree Planting on Mar. 18th in the Sunset Hills Neighborhood. Each year in March, Greensboro Beautiful plants trees in observance of Arbor Day to help the city retain its Tree City USA designation. Come plant a tree and help keep Greensboro green and gorgeous!
We hope you have a wonderful winter and try all of these fun activities in Greensboro! When you're out an about, we hope you'll stop by our front desk and take a tour of our luxury apartment homes! You can also request more information about our community, schedule a tour online or just give us a call at (844) 816-7095.
We hope to see you soon!